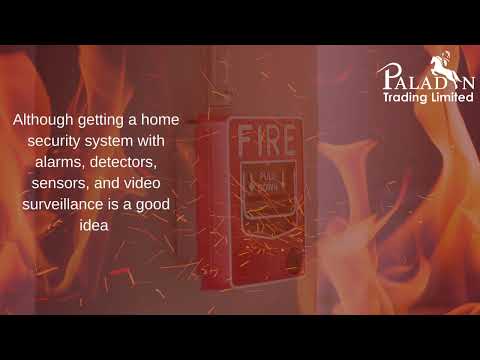 Paladin Trading Limited is an innovative, integrated security solutions provider specializing in advanced physical security technology, automated systems, services and solutions. We offer multi-layered security solutions that deliver the most comprehensive protection, layering security systems in a series that prevents, protects, detects, and responds to intrusions or attacks.
Integrated Security Management Systems
Seamless integration of automated operations ensures your business is protected when you're not around. Our ISMS solutions extend our focus beyond the simple installation of security systems. We provide a centralized management system that completely protects your assets, seamlessly integrating different systems so that they may communicate and work effectively together.
Centralized Control Means Stronger Security Management Systems; empowering you to respond in a timely manner to any alarm or event. Our Security Management Systems offer many different types of protection, including:
Communication Systems
Maximize your capacity, coverage, and control by intelligently managing your expanding radio communications. Paladin Trading Limited is an Authorized Hytera Distributor in East Africa. As a market leader, Hytera offers a versatile range of DMR and TETRA radios and more communication products and solutions.
CCTV Surveillance
Paladin Trading Limited appreciates the value of secure and intelligent access controls as an integrated component of the security requirements across any infrastructure; our focus is to identify the best in class products, which reflect the unique requirements of the East African Market.
Case Studies
The Rockefeller Foundation is a global NGO that was formed in 1913 by John D. Rockefeller to promote the well-being of humanity throughout the world. It provides grant support to NGOs on themes such as global health, agricultural productivity, and innovation for development, economic resilience and urban life. The foundation has offices in Nairobi, New York, Washington DC, Bangkok, a conference centre in Bellagio, Italy Challenges The client had installed CCTV; however, the images were blurry, therefore making it difficult to recognize the images and videos in the footage. Some of the client's biometric access control components like the reader were not effective. 
Solution Complete surveillance system comprising of 4MP IP cameras, power back up and POE switches. Desktop monitors and modern biometric access control. Software Upgrade to the latest version for the access control giving the users a great experience. Impact The new CCTV installed provides clear images and videos, the client is now able to recognize people walking in and out of the office, and access is now controlled. The client signed a maintenance contract with Paladin Trading to service all the security equipment at their office. 
2.Upmarket Resident in Karen
This is a 3-level, single dwelling townhouse located in a 2-acre property
Challenges
Single dwelling residences are more prone to the risk of home invasion as compared to apartments. The property also has high glass walls that are particularly attractive to burglars. This created the need for a proper system to detect invaders and provide a sense of security for the client.
The client wanted to keep up to date with the everyday affairs in the home and monitor the workers
Solution
High quality Intrusion Detection System installed.
IP CCTV system.
Impact
The client can now monitor everything going on in the home from anywhere and be on top of everything.
The client will get to know immediately an intruder is in the home and is assured of rapid response in any event of an intrusion.
3.This is a single dwelling property
Challenges
Being a single dwelling residence, the risk of home invasion is high, the property also stands majestically in one acre land the risk of home invasion is high. This created the need to secure the home from threats and intrusion and the need for a holistic approach of security solution .
Solution
• High quality Intrusion Detection System installed.
• IP CCTV system. Impact
• The owners can monitor their premises in real time on their phones from any part of the world.
• The client will get event notifications from everything that happens around their premises, in case of intrusion and is assured of rapid response in any event of a security attack